Our protective eyewear is an invention of our director Mr Max Moorhouse, an Australian NCAS accredited Level 2 senior squash coach for many years.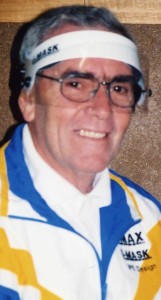 Although it has many other uses, it was developed specifically to prevent eye trauma resulting from accidents occurring with the racquet and the ball during a game of squash. It is also suited for any other small ball sports.
In 1995 i-MASK became the first eye wear to gain World Squash Federation Approval .
The patented concept of flat manufacture, to then be assembled by the purchaser who could disassemble the unit for flat and compact storage after play, was developed over a period of about 10 years. Alternatively, the unit could be left in its assembled state with no long-term affect.
Its unique design and manufacturing process has been patented nationally and internationally.
In 1996 the company was a finalist in the Telstra Tasmania Small Business awards.
There were many things to be considered.
The most vulnerable players then, and now, are women and children, beginners and spectacle wearers. Just imagine being hit with a full-blooded racquet swing on the legs and think what it would do to your face and … one shudders to think … your glasses!
The ball, on the other hand, is capable of inflicting almost incomprehensible pain when your opponent drives it into the back of your legs.
Sorry, we only protect your face!
The inventor receives many accolades and testimonials from all over the world from players whose face and eyesight has been saved by this product. Many start out by saying: "Thank God for my i-MASK. Last night I was hit by ….."
Want to know more about i-MASK? ASK MAX
Qualify for player sponsorship? Tell us more
Need a rule or decision clarified?
Register now for product updates and specials